Pre-school class course-English
Course
What is a pre-school class?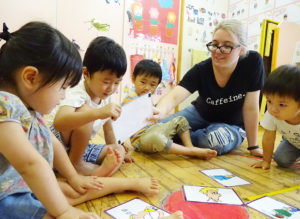 The purpose is to become familiar with English little by little starting from the age of 0 and to learn English that can be used in daily life.


In order to master English at the same level as your native language, it is necessary to be in an English environment for a long time by the age of two and communicate in English. In MSP's pre-school children's course, we will naturally input English in an environment suitable for each age from the age of zero. From the age of 2 years old, kids can learn English practically in a preschool * group class.

※ Pre-school … Facility where a child is brought up in English environment
Mom's & her baby's class from 1 year old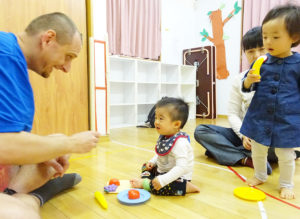 This is an English conversation class for children starting at 1 year old and 1 month. For bilingual education, it is very important that your child be familiar with an English environment by the age of two. Therefore, the goal of the Koala class is to be able to understand the teacher's simple English instructions before advancing to Rabbit class. As the kids are with their own parent, they can start being in an English environment feeling at ease. You can expect your kids to improve their English as well as being social and active by having chances to interact with other kids.
Lesson Time
Lesson time
Select 2 days from Weds, Fri or Saturdays

Wed/ Fri /Sat

9:40〜10:20

Entrance fee
12,000 yen non-tax)
Tuition

Twice a week7,600 yen (non-tax)
1 English speaking teacher
Maximum of 6 pairs ( Parent / guardian and child)
Children turning 2 years old the following month will automatically progress to the Rabbit class.
振Make up lessons are available.
A once a week lesson is also available.
Rabbit Class
2 years old ~ the youngest at kindergarten
(before entering kindergarten)
Preschool style mother-infant separation class
starting from 2 years old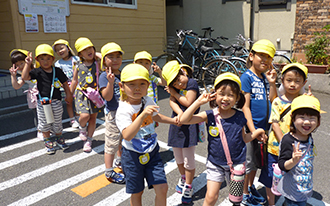 This is a preschool style parent-infant separation class that starts at the age of 2 years and 1 month. Kids can learn English while having fun with role playing with other kids who are at the same age in an English-only environment.

There are 2 types of classes : (1)Short course:1 hour lessons  (2) Long course:2.5 hours lessons. (2)The purpose of the Long Course is to naturally input English by letting them immerse in English for a long time. We also help with toilet training and food instruction, so you can feel safe and entrust your children to us. (1)If you wish to try mother-infant separation little by little, or if you want short-time lessons, you can start with the short course.
Lesson Time
Lesson Time
You can select twice from Wednesday, Thursday, Friday or Saturday

(1)Short course 10:30~11:30

(2)Long course  10:30~13:00

※※ Extending services       9:00~10:30 / 13:00~14:30

Admission fee
12,000 yen (excluding tax)
 
Tuition fee

(1)Short course 9,200 yen (excluding tax)

(2)Long course    14,200 yen (excluding tax)

※ About nursery services for Rabbit class
A nap time has been set up from 1P.M. since 2019, making it possible to leave kids temporarily to our staff. Japanese staff or foreign staff who can speak Japanese will be taking care of kids for you, so that small children before the kindergarten can stay there feeling secure.




The tuition fee including extending services is as follows. (Once a week) 9: 00 – 14:30

  

The tuition fee including extending services is as follows. (Once a week)




9:00~14:30
Extending childcare (1 day) + long course / 19,000 yen (excluding tax)




9:00~13:00
Extending childcare (only in the morning) + Long course / 16,600 yen (excluding tax)




10:30~14:30
Extending childcare (afternoon only) + long course / 16,600 yen (excluding tax)




10:30~13:00
Long course only / 14,200 yen (excluding tax)




10:30~11:30
Short course only / 9,200 yen (excluding tax)

 
1 foreign teacher + 1 Japanese assistant
Class maximum capacity 8 people
There is a block of time designated for lunch in the long course. Please bring a boxed lunch.
Make-up lessons are available.

Activities

Contents of Activities

スクロールしてご覧ください→

Warm up
Morning Meeting
Dance&Jump! along with "Good Morning " song
In the morning meeting time, we will ask and answer questions about the day of the week, the date, and the weather. We will also sing songs, and talk about numbers and colors in the form of a game.
We are setting up a place where children can actively use English while enjoying language exchange with their teachers and friends.
Music Time / Rhythmics
We select popular songs that children are familiar with from kids' songs the curriculum.
Since the children can feel the rhythm of music and English in their body in eurhythmics, they can naturally learn English.
Kids enjoy learning English while singing and dancing using hand play and instruments.
Activity Lesson
It is a lesson curriculum that incorporates various activities so that children can engage in lessons with interest.
Establish English words and sentences related to monthly topics through cards, games, picture books, etc. Waiting for their turn and listening to the teachers are also the first important steps to start learning something.
 Alphabet / Pronouncing letters
Phonics
Children will develop the basics of pronunciation while listening to the English sounds of each letter has by introducing phonics method from the 1-year-old Koala Class.
Lunch Time
It is lunch time eating boxed lunch with their classmates. They also have fun while learning about names of food, phrases and also manners used when eating.
They will be able to eat and tidy up as a practice before entering kindergarten.
Toilet time
Kids have toilet training in fixed Toilet Time.
The toilet training will progress gradually by the teacher's encouragement even for kids with diapers.
Free play ( activity )
The free play is not only for children to play freely, but also for an approach different from the lesson style, and is set as a time where they can learn English naturally while having fun with their teacher.
From the play exchange between children, Kids can learn not only English but also prosocial behavior.

In Rabbit class, kids can naturally learn to say "I'm sorry" or "Please" even after kids' conflicts, and they can also learn how to compromise or put up with something. Kids solve problems with help from their teachers when fighting over toys or books to share. Children learn a basis of important social rules through activities as the first step in getting along with many friends after entering MSP.

English circle for babies &parents
from 0 years old


It is a class for parents. Teachers set topics on a monthly basis and introduce the words and phrases necessary for daily life and parenting. We hope the class would be a chance to start learning English and a place to interact with other parents. A native foreign-speaker who speaks Japanese will be in charge, so you will be learning English that suits the Japanese you want to express. If you have a small child, our nursery staff will take care of them in class. Why not join us and become familiar with English?

Lesson Time

Lesson Time
Select 1 day from Mon / Wed / Sat

Mondays

12:30~13:10

Wednesdays

10:30〜11:10

Saturdays

14:15〜14:55

Entrance fee
12,000 yen(non-tax)
Tuition

Once a week 4,200 yen(non-tax )

An English teacher ( and a Japanese staff)
Inside every monthly letter, the contents of that months' class will be provided.
Any children below the age of turning 3 years old can join the class with his/ her parent. ( a nurturing staff can take care of him/ her. )
ミキスタディパルズ・
インターナショナル・スクール
愛媛県松山市中央1-12-15
TEL 089-923-7660 /
FAX 089-923-7681
COPYRIGHT© MIKI STUDY PALS INTERNATIONAL SCHOOL.
ALL RIGHTS RESERVED.